Wildflowers of Pennsylvania
This publication contains 612 colored photographs of different wildflowers of Pennsylvania. These beautiful photographs were taken by members of the Society.
The book also gives a brief description of botanical facts about the plant, the habitat where the plant is located, location in the state where the flowers can be found and
the status of the flower in Pennsylvania:
rare, threatened and/or endangered. It is spiral-bound for ease of use. $20.

To order by mail, add $2 postage and
handling for one book, $3/two, $4/three, $4.50/four. Forward your
check, made
payable to BSWP
, and your request to
Dr. Mary Joy Haywood, RSM, PhD,
3333 Fifth Ave., Pittsburgh, PA
mhaywood@carlow.edu
.
Sweatshirts
Embroidered on the top left front with an
oak leaf/acorn emblem, shown here.
Available in sizes: S, M, L.
$20. To order,
contact Bonnie Isaac at 412.622.3253 or
isaacb@CarnegieMuseums.org
.
BSWP Embroidered Patch

::

The new patch, featuring blue-eyed Mary, is available now! 4-inch diameter. $5. Contact
Dr. Mary Joy Haywood, RSM, PhD,
mhaywood@carlow.edu.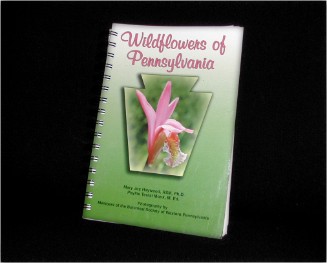 Wildflowers of Pennsylvania
BSWP sweatshirt and embroidery detail