Membership in the Society is open to all who are interested in learning about wildflowers. Field trips are open to anyone who wishes to observe and study wildflowers in their habitats.
Annual dues are $15 for individual, $20 for a

family. Students can join at a half rate of $7.50.

New categories for 2015
$35 for a sustaining membership
$150 for a life membership
Membership includes a subscription to BSWP's quarterly newsletter, Wildflowers. Send your check to: BSWP, c/o Mark Bowers, 279 Orr Road, West Newton, PA 15089.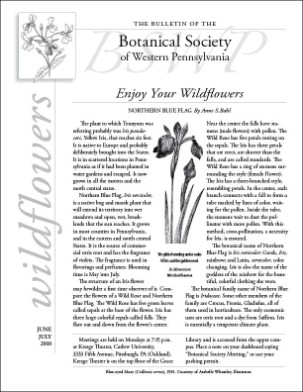 Print out the membership form shown below, complete it and mail to the given address.

Or, type all of the specified information into an e-mail to Mark Bowers.