The Botanical Society of Western Pennsylvania (BSWP) is one of the oldest botanical organizations in the country. Since 1886, our members have met, botanized, and served as a resource of knowledge on the plants of Pennsylvania.
Membership in BSWP is open to those who are interested in botany and who wish to encourage the study of this science and a knowledge of plants. Our membership comprise a diverse group, including botanists, teachers, naturalists, photographers, artists, and gardeners.
General memberships are available on a yearly basis, renewing in January, and include:

a subscription to BSWP's quality newsletter, Wildflowers
notice of our monthly meetings, held September through June at the Carnegie Museum of Natural History in Pittsburgh, featuring topics of botanical interest.

notice of our excellent field trips held throughout western Pennsylvania.

support of botanical programs such as the Pennsylvania Botany Symposium, Celebrate the Bloom! at Jennings, Enlow Fork Extravaganza and the Education Scholarship Fund for the Carnegie Museum of Natural History.
Annual dues are $16 for individual, $22 for a family, $35 for a sustaining membership. All school, college and postgraduate students can join for $8. We now have a lifetime membership for $200.00.
To pay by mail with a check, please click here to print out a membership form, also shown below.
Join or Renew Membership Now!
With PayPal or Credit Card
Choose your membership level, below. Then follow the PAY NOW link to make payment.
Thank you for your continued support of the Botanical Society of Western Pennsylvania!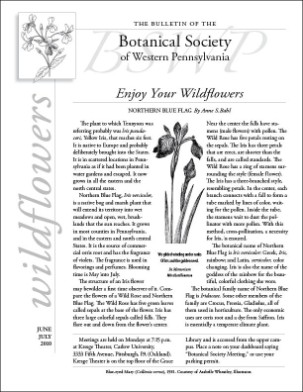 If you have any questions about a new or existing membership, or if you need to update your contact information, please email us at botsocwpa@gmail.com. If you do not utilize e-mail, and wish to be informed of field trips and meeting notices, please let us know!
If you are paying online for another individual (i.e., a gift membership), please e-mail us to inform us that the credit card payer is obtaining a gift membership, and include the recipient's mailing address and e-mail.